Communication
Sophisticated communication tools, simple packaging.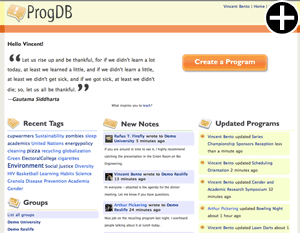 Overview
Get a sense of what is happening in one quick glance. When you first sign on, your front page shows an overview of the conversation and activity within your groups and programs. From there, it is easy to see recent updates and additions.
Email notifications
There is no need to constantly check the site. Instead, stay connected through email. The ProgDB can let you know when anyone has sent a note to you, your groups, or programs. You can follow specific groups and receive an email when new programs are created. There is even an optional weekly email newsletter that is customized for you - keeping you updated on the programs and groups you are connected to. And of course, if a collaborator updates one of your programs, you will be among the first to know.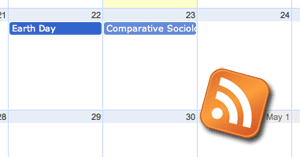 Feeds and integration
Each group and person has their own atom and ical feeds for programs. You can use these to integrate current information into your organization's website, or direct your community to use the feed in order to stay updated with your groups. The group ical feed allows Entourage, Google Calendar or any other calendar program which supports the ical standard to automatically synchronize with your group events. We have more integration features planned. If something would be helpful, please let us know.
Open standards
We believe in open standards and data portability. From the technical side, we use open standards to present your data whenever possible, including the ability to download your programming data in an XML database format. On a policy side, the licensing documents are designed to make it clear that the data is yours to take with you.
We hope that this tour of our main features answered your questions. Sometimes people also ask about data protection, accessibility, or learning about updates on changes. If you are interested in the ProgDB, consider taking it for a test drive.