Simplified Plans
Find the right size pack for your organization, or combine multiple packs.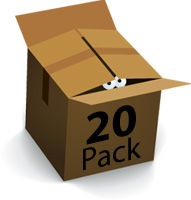 20 accounts
for $18 US/mo
100 accounts
for $56 US/mo
All plans include
unlimited groups
unlimited program forms
unlimited programs
2 GB file storage
You also have the flexibility to expand or contract your license at any time.
How does the evaluation work?
With the information you provide us, we will set up a sample group and send you the information which will let you create an account. The evaluation will allow 3 people to try it out for 30 days.
You can use this time to set up groups and forms as if you were setting it up for your organization - create groups which reflect your actual staff, create forms which collect the information you need. If you choose to sign up, you will be able to continue using these groups and forms.
Do we have to sign a long term contract?
Nope. Although most organizations will choose annual billing for simplicity, we are happy to bill monthly.
What forms of payment do you accept?
We understand university billing. We are happy to send an invoice for your check request process, or we also accept all major credit cards using paypal as our credit card processor.
Would you like to try it out?
We'd be happy set aside time to talk to you about it, or let you evaluate whether it will meet your needs.